Using inexpensive consumer wearable sensors that measure activity, heart rate, oxygen saturation, sound and light, SanoMetrics proprietary Al system generates clinical-grade health indicators with a focus on sleep and sleep disease.
OPPORTUNITY
A new generation of affordable consumer wearables with advanced sensors can provide the data needed to diagnose sleep disorders. What is missing is Artificial Intelligence (Al) software that can process sensor data, and classify disorders, but building Al requires extensive training data sets. A training data set for sleep disease classification requires overlapping data from gold standard diagnostic tools, including sleep lab polysomnography (PSG) and modern multi-modal wearable sensors. We are building this data set.
In addition, we have developed a software platform, called OpenActigraphy, to allow scientists and clinical researchers to use inexpensive consumer wearables for research-grade sleep studies. We will sell access to OpenActigraphy for researchers and will partner with sleep labs to use the OpenActigraphy software platform to collect data sets of overlapping clinical lab data and next-generation wearable sensor data. We then use these data sets to train and develop our Al-powered classifiers for sleep classification and sleep disorder diagnosis.
STATUS
Patent pending
SanoMetrics has partnered with MedSleep, one of Canada's largest sleep labs, to build a training data set for sleep disease classification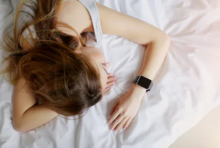 ID:
2107
Keywords:
Advanced Health Technologies , Artificial Intelligence (AI) , Deep Learning , Data Analytics , Research Tools , Diagnostics , Software , Wearable Tech , Remote monitoring
Director, University Ventures
Innovations & Partnerships Office (IPO)