Principals, Deans, Academic Directors, and Chairs
Professors, Faculty Members
Research Team Members
External Partners
What do I need before I can begin?
Please review Research & Innovation Agreements.  Please contact the Innovation & Partnerships Office (IPO) for assistance with the agreement or contract process.
The University of Toronto's (U of T) global reputation as a top research university attracts industry partners from across Canada and around the world. Over the last decade, U of T has worked with over 600 different industry partners. Each company may have its own rationale for working with the University, but most seek to connect with U of T's research excellence and expertise, the opportunity to engage with students and trainees, and to co-develop new ideas and innovations that can be moved into domestic and global markets. These partnerships augment and enrich the training and research activities at the University and their impacts. Through these partnerships the University is able to secure resources and tools (i.e. hardware, materials, software, and data) that help expand impact and scope of our research and discovery efforts, while also helping prepare students for future careers and employment.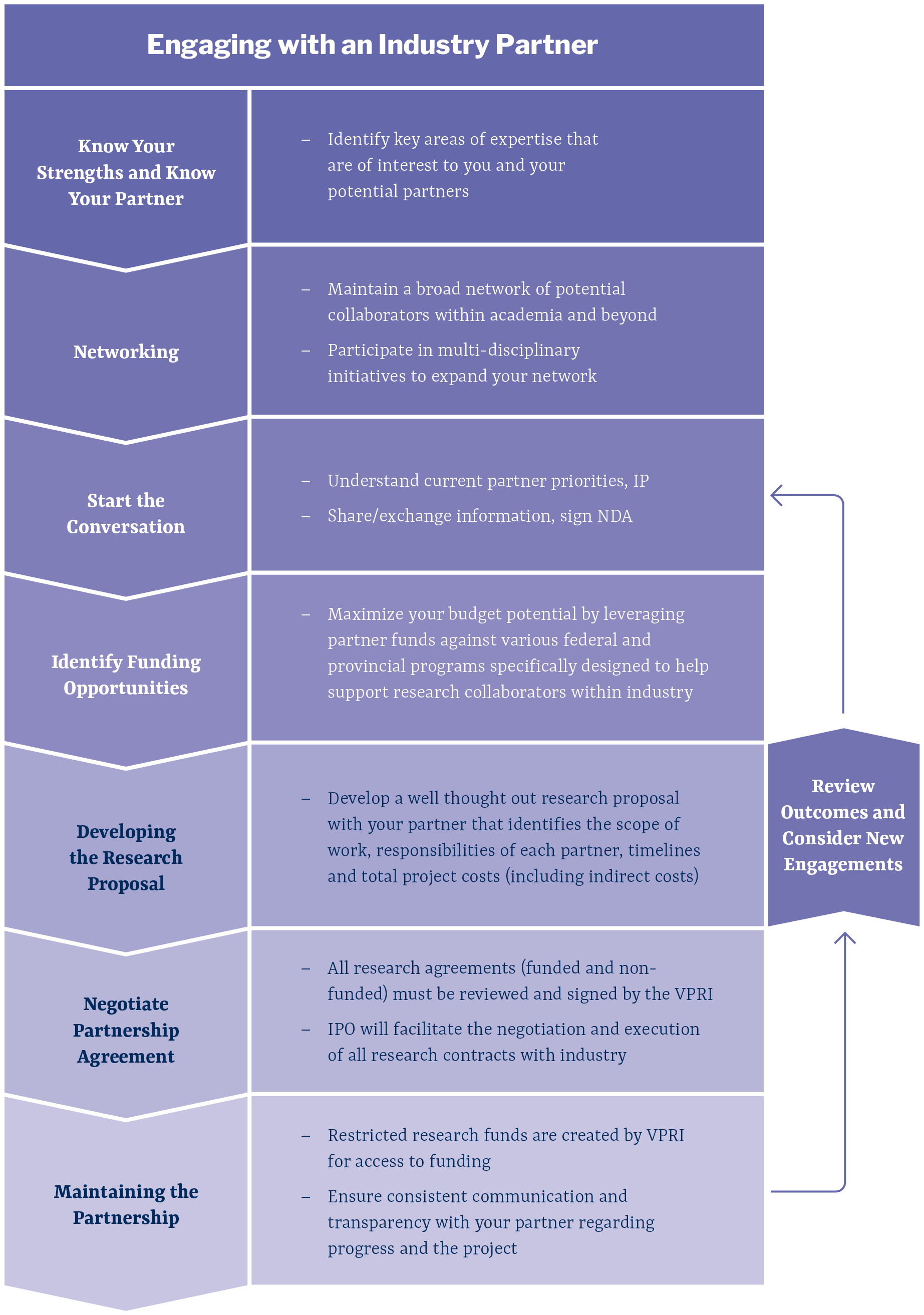 Know Your Strengths & Know Your Partner
As a researcher, identify your key areas of expertise that may be of interest to potential partners. You should be ready to discuss your research and capabilities in general terms, as they relate to a potential partner seeking solutions to a particular problem, and who may not have deep scientific or technical expertise in-house. Researchers should think about what competitive advantages they have, with regards to their experience and lab capabilities, which differentiates them from others in their field.
It is also important to seek out partners and areas for collaboration that are aligned with your own research interests, as the relationship should be mutually beneficial. Understanding your partner's research objectives and engaging in preliminary discussions will provide a better foundation for the relationship with an aim to fulfill both the University's and the partner's needs and expectations.
 
Networking
Many researchers maintain their own networks of potential collaborators within and beyond academia. Introductions and connections are often made at scientific meetings, conferences, correspondence via publications, social media, and through academic colleagues. Maintaining a broad network of contacts from diverse organizations can help you identify partnership opportunities and individuals within potential partner organizations. Researchers can participate in multi-disciplinary networks or consortia to expand their networks.
 
Start the Conversation
Once an initial connection has been established with a potential partner, preliminary discussions regarding a proposed project are typically the next step. These often take place via email, virtually, and in-person meetings. As discussions become more detailed, some partners may require a non-disclosure or confidential disclosure agreement (CDA) Similarly, if the University researcher is disclosing any unpublished, proprietary, or confidential information, a CDA should be requested by the researcher.
Initial discussions may eventually progress into the proposal development and planning stages, so be prepared to identify realistic goals, timelines, and budget for the project. It will also be important to clarify how the partner(s) will contribute to the research in terms of time commitments of their staff, contributions of data, materials, use of company equipment, and other details. There should also be discussions regarding the direct and indirect costs of the project that will be incurred at the University.
These project-specific details will eventually become part of a Sponsored Research Agreement (SRA) between the University and the company. The SRA will define the expectations of all parties and govern their respective rights and obligations.
 
Identify Funding Opportunities
There are various federal and provincial programs that are designed to support and help co-fund industry-university research partnerships. These programs can expand the scope and scale of the research engagement by supplementing the industry cash and in-kind contributions. Some examples include the Alliance program with the Natural Sciences and Engineering Research Council of Canada (NSERC), Mitacs, and Ontario Centre of Innovation, to name a few.
Researchers can also learn about potential partnership opportunities through U of T's Research Alerts and the Funding Opportunities Database or contact IPO to help identify eligible funding programs related to industry partnerships.
 
Developing the Research Proposal
A concise and well-written research proposal is an important framework for any collaboration with an industry partner as it outlines the agreed upon activities, timelines, budget, and responsibilities of each participant. The development of the project proposal is often a joint effort with the partner.
 
Develop the Partnership Agreement
Funded (e.g. cash support) and non-funded (e.g. the exchange of data, materials, time of personnel) research engagements with an external partner require an agreement executed by the VPRI to ensure that all research activity performed at the University is in compliance with the University's policies and practices.
For all industry research agreements, IPO manages the negotiation and execution of partnering agreements and facilitates access to the funds for the research. IPO can also assist in coordinating researchers with various funding agencies to help augment the project budget. IPO will also provide the necessary support to identify and protect the IP of researchers, along with negotiating and facilitating IP rights with our partners.
For further information on how to apply for research funding and obtain institutional endorsement on research agreements and applications, please see Partner with the Community / Industry for a Funding Application.
 
Maintain the Partnership
Once the research agreement has been finalized and executed between the partner and U of T representative, the project can begin. A restricted research fund will be set up by the Partnerships team in IPO for ongoing management of project expenses and sponsor reporting requirements. The researcher is responsible for ensuring expenses are within the project budget and eligible period.
Throughout the project, the researcher should be cognizant of their responsibilities under the terms of the agreement and U of T policies. Typically, a researcher will be expected to communicate with the partner during the project and provide progress and/or final reports. Intellectual property developed through the project must be disclosed to IPO. Researchers may need to provide publications to the partner to review for patentable IP and to ensure confidential information is not inadvertently disclosed. If the partner decides to file a patent based on the publication it is an indication an invention has been created and disclosure to IPO is required.
It is beneficial for researchers to manage expectations with industry partners, as the University's reliance on graduate students and researcher's teaching responsibilities place constraints on the conduct of a project, both in terms of timelines and the ability to pivot.
Successful projects build trust with the partner, foster long-term relationships, and open opportunities for future collaborations.
IPO has created a guide that provides more detail on the process for engaging with an industry partner and types of partnership engagements. The guide also outlines important matters to be considered in an industry engagement, include matching funding opportunities, publication and intellectual property rights, and research security.
Contents:
Overview
Key Benefits
Intellectual Property Rights
Publication & Academic Freedom
Models of Engagement
How the University Supports Industry Partnerships
Engaging with an Industry Partner
Types of Partnership Agreements
Safeguarding Your Research
Useful Links
 
Build successful partnerships between industry and the U of T research community
Facilitate the introductions between the industry partner and the appropriate researchers at U of T
Assist in the development of the relationship and identifying partnership opportunities
Staff
General Inquiries: Innovations & Partnerships Office
Innovations & Partnerships Office (IPO)
Staff
Business Development Officer, Industry Partnerships
Innovations & Partnerships Office (IPO)
Staff
Business Development Officer, Industry Partnerships
Innovations & Partnerships Office (IPO)