Our researchers have developed a pipeline with which to identify new nematicides. Through this pipeline, several candidate nematicides have been identified so far, each with a distinct and novel core structure. In the bioassays performed to date, the candidate nematicides have demonstrated comparable activity to commercially-available next-generation nematicides in both in vitro and greenhouse plant infection assays. Toxicity assays with human cells and a vertebrate model system have shown that the majority of the candidate nematicides have toxicity profiles that are comparable to, or better than, marketed next-generation nematicides.
OPPORTUNITY
Affordable access to quality food is a key predictor of human health across the globe. A major threat to food production everywhere is crop destruction by plant parasitic nematodes (PPNs). Globally, PPNs are estimated to cause $350 billion in crop losses every year. In some cases, PPNs reduce crop yield by well over 80%. As global temperatures rise, the rate of crop infestation by PPNs will increase and previously foreign PPN species will become new threats to Canadian agriculture. Clearly, PPNs pose a serious threat to global food security and negatively impact human health in every nation. 
Although sound agricultural practices, biologicals, and GMOs can reduce PPN infestation, the more than 4000 different PPN species find ways to circumvent these innovations. Small molecule nematicides have consequently been an essential part of a complete PPN control strategy for decades. Concerns over environmental toxicity and human safety have justifiably prompted restrictions and bans on many effective nematicides, including the fumigant methyl bromide, and neurotoxic organophosphates and carbamates. Regulations have   limited the number of available nematicides such that there are no longer reliable control options for several PPN species, including Meloidogyne hapla that parasitizes potatoes, onion, tomatoes and other crops. Hence, there is a clear need to develop new, safe and effective chemical tools to control PPNs.
COMPETITIVE ADVANTAGE
Greater Synthetic Accessibility: The candidate nematicides are small in size and predicted to be more synthetically accessible than the majority of marketed next-generation post-plant nematicides.

Safer for the environment: Unlike the ozone-depleting fumigant methyl bromide, the nine candidate nematicides do not contain reactive functional groups, nor do they contain structural features known to be generally toxic to biological organisms. Unlike the carbamate and organophosphate nematicides, the candidate nematicides are not expected to be neurotoxic to non-target organisms.

Promising toxicity profiles in non-target systems: Toxicity towards human cells and a vertebrate fish model is comparable to, or less than, the toxicity induced by next-generation commercial nematicides.
STATUS
IP: First filing of the patent application completed July 2019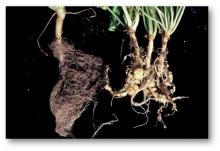 ID:
P2128
Keywords:
Biotechnology , Health & Related Life Sciences , Crop Sciences , Nematicides
Technology Commercialization Manager
Innovations & Partnerships Office (IPO)