Here, researchers from the University of Toronto leverage the glucose meter, one of the most widely available point-of-care sensing devices, to serve as a universal reader for these decentralized diagnostics. To do this, the team have developed a molecular "translator" that can convert the activation of conventional gene circuit-based sensors into a glucose output that can be read by off-the-shelf glucose meters. Researchers have now established glucogenic reporter-based sensors for detection of a wide range of RNA sequences, including multiplexed reporter outputs, with detection of targets down to the low attomolar range. Using this glucose-meter interface, proof-of-concept work has demonstrated the detection of small-molecule analytes; sample-to‑result diagnostics for typhoid, paratyphoid and drug resistance genes and SARS-CoV-2.
OPPORTUNITY
Recent advances in cell-free synthetic biology have given rise to gene circuit-based sensors with the potential to provide decentralized and low-cost molecular diagnostics. However, to date most demonstrations of sensor technologies have been done in the lab using multi-well plate reader assays, leaving the technology for all practical purposes stuck in the laboratory. The low development cost and programmable nature of gene circuit-based sensors make this new class of synthetic biology-based diagnostics an ideal modality for distributing the capacity for detection of disease and environmental monitoring.
COMPETITIVE ADVANTAGE
Brings sensitive and robust molecular diagnostics to the point-of-care
Takes advantage of existing hardware manufacturing and distribution
STATUS
IP Status:
Development Status:

Technology has been validated with SARS-CoV-2 RNA sequences with attomolar
sensitivity and patient sample trials will start shortly.
Technology has been validated with small molecule detection (e.g. antibiotic water contamination), typhoid, paratyphoid A/B and drug resistance genes, include from whole cell S. typhi spiked into serum.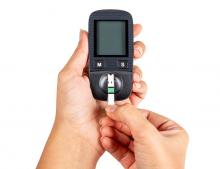 ID:
P1986
Keywords:
Point-of-Care , Covid-19 , Diagnostics , Molecular Detection , Synthetic Biology , SARS-COV-2
Innovations & Entrepreneurship Manager
Innovations & Partnerships Office (IPO)