This material may be an effective compound against certain types of viruses, including SARS-CoV-2 (Covid-19). We are looking to rapidly put together a very quick testing plan to incorporate our filler in polymer meshes for the deactivation of viruses on PPE (like masks). Contact of the material with droplets would trigger a release of drug into the droplet, destroying viruses contained within and decreasing the risk of infection during mask handling/removal.
TECHNOLOGY
Recurrent dental caries, at the interface between a restoration and tooth, is the reason for over 70% of restorations performed. Despite advances in restorative bonding, caries-causing bacteria will still infiltrate this interface, degrade the bond, and form caries. Current dental restoratives have no effective ability to resist this process by combating these bacteria. The Solution: A new antibacterial dental bonding agent featuring
Local delivery of antibacterial precisely where needed
Smart antibacterial release in response to bacteria
The ability to reduce recurrent caries and restoration failure for 30+ years
Compatiblity with current composite restorative systems
and an antibacterial implant abutment that
Prevents infection at the implant-gingiva interface without systemic exposure
Effective in the days following surgery
Integrates with current implant placement procedures
Reduces likelihood of costly implant revisions
Growing out of research at the University of Toronto Faculty of Dentistry, Materials Science and Engineering department, and Institute of Biomaterials and Biomedical Engineering, the technology is based on field-leading research in host-biomaterials interactions, infection, and self-assembling materials. The technology utilizes antibacterial-silica (glass) self-assembled materials that respond to the presence of pathogenic bacteria by releasing the drug on demand when bacteria are present. The result is greatly improved patient outcome with no change to practitioner workflow, reducing the likelihood of recurrent caries and implant revisions that may eventually necessitate more complex restorative treatments (root canals and crowns) or total tooth or implant loss.
Company: Mesosil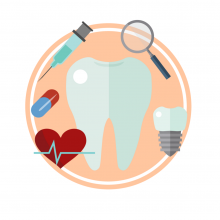 ID:
P1869
Keywords:
Biomaterials , Companies , Dentistry , Drug Delivery , Medical Implants and Prosthetics , Nanomaterials and Nanoparticles , Covid-19
Commercialization Manager
Innovations & Partnerships Office (IPO)