Concerns about the cybersecurity of protective relays have been on the rise in electric utilities and regulatory agencies over the past decade. This is mainly because of the increasing remote access points and cyberattack surfaces that have been introduced to substations by smart grid technologies, industrial internet of things and IEC 61850 protocol.
Our team has developed logic for relays that can be used to significantly improve the cyber-resiliency of communication-assisted protection schemes. Communication-assisted protection schemes are the most widely used protection schemes in high voltage lines for the production, transmission, and distribution of energy.
OPPORTUNITY
Our solution is easily integrated with existing hardware and logic to quickly identify whether communication channels or relays are compromised by a cyberattack, with faster fault clearing and a reduction in false positives.
The logic secures directional comparison protection schemes against both false data injection (FDI) and distributed denial of service (DDoS) attacks as well as communication channel loss, including protection from: permissive overreaching transfer trip (POTT), permissive underreaching transfer trip (PUTT), and directional comparison blocking (DCB).
Provisional patent application has been filed.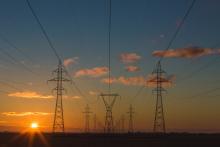 ID:
P2161
Keywords:
Energy , Cybersecurity , Smart Cities
Commercialization Manager
Innovations & Partnerships Office (IPO)