This device is a composite transdermal microneedle patch comprising a microneedle array and embedded microgel particles.  The microparticles are made from three types of monomers – one provides glucose-responsive volume change, one for stabilizing native glucagon, and one for facilitating glucagon encapsulation. After the microneedle patch is applied, the microneedles penetrate the skin, swell quickly in the interstitial fluid, and enable the microgels in contact with the fluid and glucose. The microgels shrink at low glucose levels squeezing the encapsulated glucagon out, which then diffuses out of the needles to the blood circulation and to the liver thereby increasing blood glucose levels. The entire process automatically proceeds without external intervention of patients or care givers. Using the invented microgel system, the glucagon can maintain native structure and bioactivity at body temperature and under the conditions of making microneedle array.
OPPORTUNITY Diabetes is a group of metabolic diseases characterized by hyperglycemia that affects 422 million people worldwide. Insulin-dependent diabetic patients require daily multiple injections of exogenous insulin to combat hyperglycemia and achieve glycemic targets. However, over-estimation of daily insulin requirements and administration of excess insulin can lead to acute hypoglycemia, a life-threatening complication of insulin therapy. Such emergency/rescue injections still require significant patient intervention, which can be challenging for patient populations that suffer from hypoglycemia-unawareness, nocturnal hypoglycemia, and patients who rely on caregivers or parents for treatment. Thus, there is a clear need for hypoglycemia-triggered automated delivery of glucagon to decreased frequency and risk of hypoglycemia.
COMPETITIVE ADVANTAGE
Process is entirely automatic – no external intervention required, either by patient or caregivers.
Simple and reliable – utilizing a reversal biochemical reaction; no complex mechanical nor electronic parts are needed.
Extended time window of effectiveness - Ability to prevent hypoglycemia induced by excess insulin administration and fasting for 3 – 14 hours.
Low cost – Made of inexpensive materials and fabrication process.
Easy application and removal – The patch can be applied conveniently, e.g. before bed time or long distance driving to provide protection and can be removed when it is not needed.
STATUS
IP - Provisional patent application filed November 2018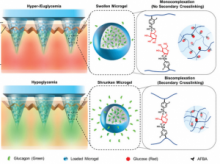 ID:
P2198
Keywords:
Advanced Health Technologies , Biomaterials , Biotechnology , Medical Devices , metabolic syndromes , Nanomaterials and Nanoparticles , Sensors & Instrumentation , Therapeutics
Innovations & Entrepreneurship Manager
Innovations & Partnerships Office (IPO)