TECHNOLOGY
RHEA is a digital wellness platform that provides individuals with an easy-to-follow, personalized rehab plan for a more effective recovery from brain injuries. RHEA's simple directions, personalized exercise videos, and self-monitoring tools are drawn from well-established empirical evidence and clinical guidelines. 
Through novel machine learning algorithms that leverage self-reported information such as demographics, symptoms, and fitness level with wearable data (sleep patterns, daily activity, and heart rate), RHEA recommends the most effective mix of structured activities and exercises to facilitate the rehabilitation process following concussion.
OPPORTUNITY
A growing body of research has demonstrated that early-onset, graded aerobic exercise interventions can accelerate recovery and improve functional outcomes compared to rest alone following central nervous system injuries such as stroke, whiplash, low-back pain, and most recently, concussion. Despite such evidence, there still remains a lack of awareness and education regarding the initial medical management of concussion.
RHEA offers a digital solution at a fraction of the costs of traditional in-person therapy solutions. The potential market opportunity of RHEA is not limited to concussion, and future versions of this mobile solution will expand to other clinical populations including anxiety, depression, and post-traumatic stress, where the empirical evidence of structured exercise is well-documented.
STATUS
An iOS version of RHEA has been developed and championed by experts in concussion, healthcare, neuroscience, data analytics, and UX design. Once launched, RHEA will also leverage partnerships with the NHLPA, Toronto Blue Jays, minor sports associations, and rehab clinics to market the tool.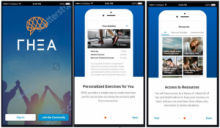 ID:
2108
Keywords:
Advanced Health Technologies , Companies , Concussion , Digital Media , Health & Related Life Sciences , Kinesiology & Physical Education , Mobile Apps , Neurological Disorders , Pain , Sensory Systems & Rehabilitation , Smartphones , Software , Wearable Tech
Innovations & Entrepreneurship Manager
Innovations & Partnerships Office (IPO)